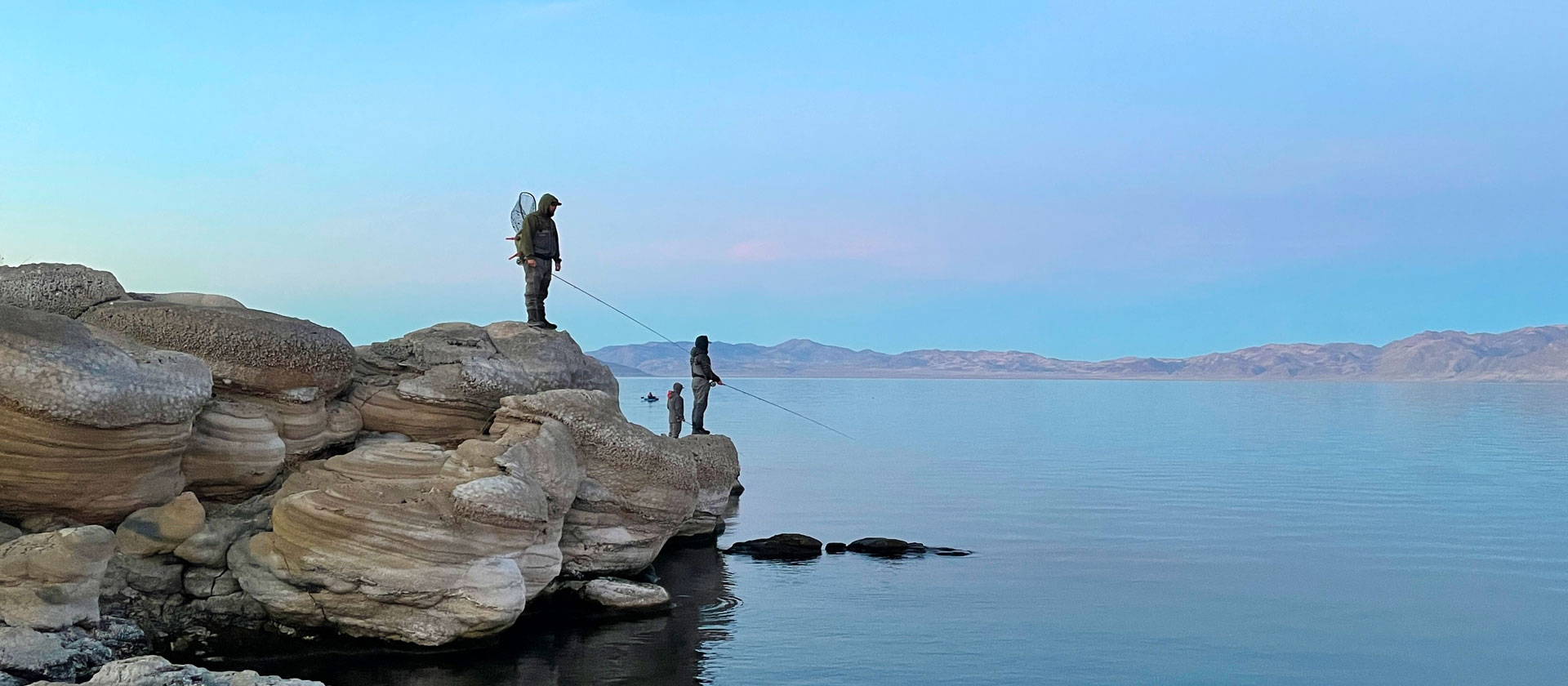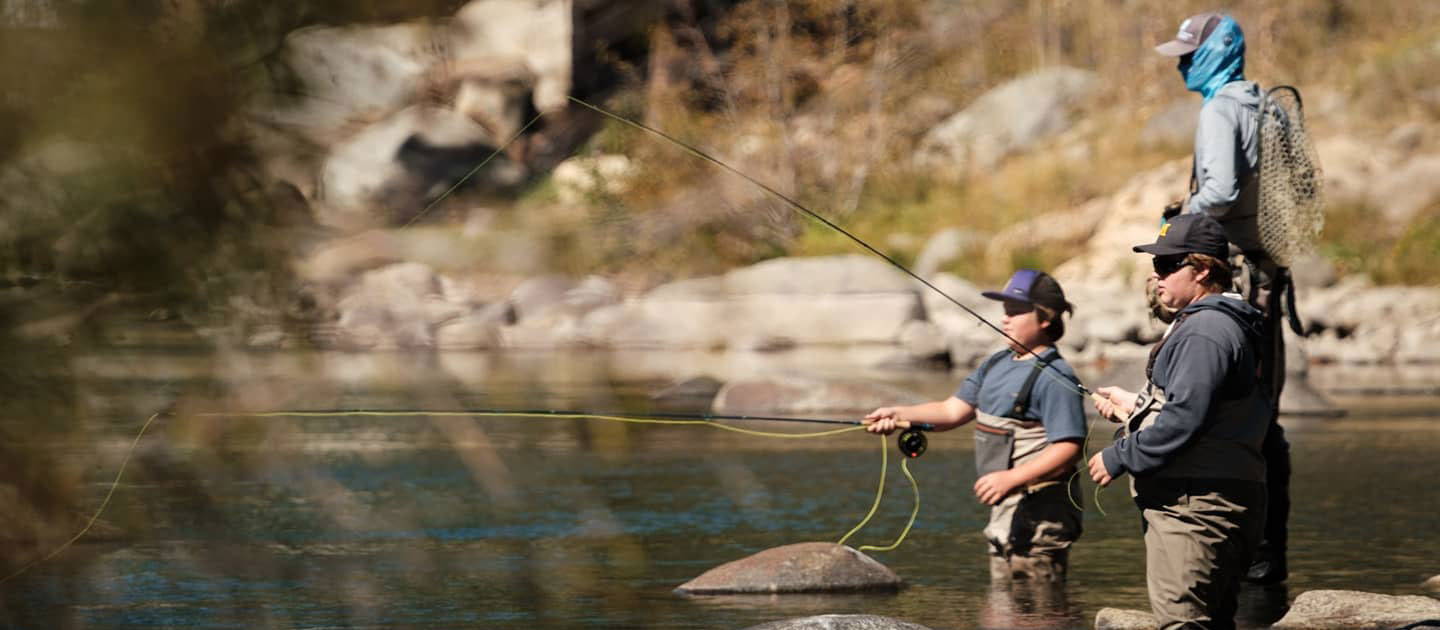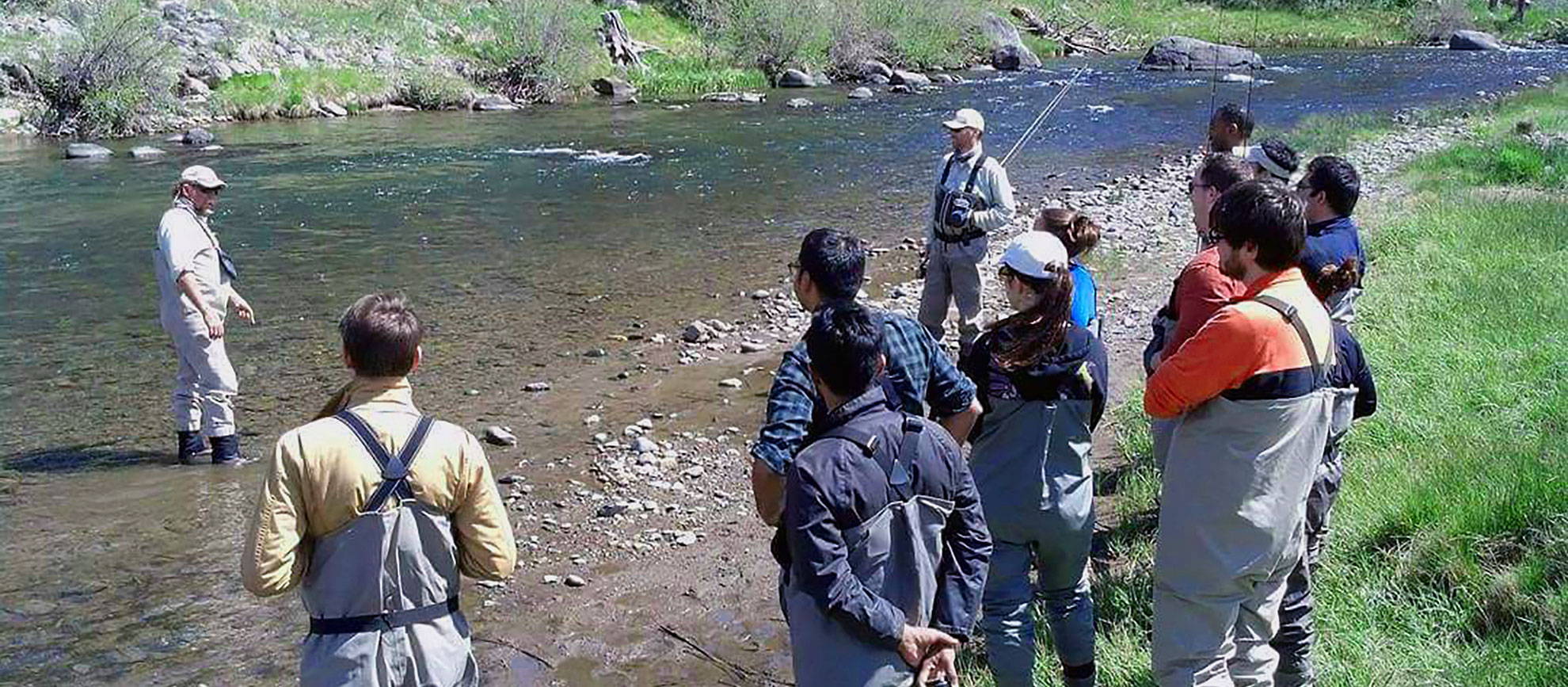 We are pleased to offer a wide variety of guided fly fishing experience to our customers. Whether you are an experienced angler looking for a great day on some new water, or looking for an entry-level experience, our local guides are eager to share what they know. Visit the shop to meet our team, call for more information, or simply fill out the Trip Inquiry Form to get us started on your request.
Based in Truckee, California – we are uniquely located near the region's best wild fishing streams and lakes. With the Truckee River just steps from the fly shop, we are fortunate to have access to one of the world's premier year-round fishing destinations.

From the headwaters at Lake Tahoe, through the town of Truckee and down into Reno Nevada, the 'Big Truckee ' flows more than 120 miles where it ends at Pyramid Lake. This magical fishery is known for larger rainbow trout, big browns, cutthroats, and native whitefish too. Yet the prize of the region resides in Pyramid Lake, where Lahontan Cutthroat Trout can grow to be well over 20 pounds.
In addition to the main Truckee River, our local streams and lakes around Truckee also provide year round excitement to the fly fishing community.

The Truckee River
Little Truckee River
Pyramid Lake
Stampede Reservoir
Boca Reservoir
Prosser Reservoir
Webber Lake
Independence Lake
Truckee is unique in so many ways, including access to hundreds of steams and lakes in the surrounding Sierra Nevada. And just an hour away, in a completely different state and micro climate, Pyramid Lake sits there holding the biggest trout in the west. It's a magical place with rich history. If you're interested in learning more about fishing at Pyramid, take a look at our extended series about fishing at Pyramid Lake. We share the what, how, when and where to fish. And, if you're intrigued, we'd be happy to match you up to one of our guides to help make your day in the basin the best it can be. Call the shop of fill out the form below. The season runs from October 1st to June 30th.

Matt Heron Trips, Classes, and Clinics
Matt Heron Fly Fishing is widely recognized as one of the nation's top fly-fishing schools and guiding outfitters. Their complete offering of year-round guide trips, classes and clinics has something for everyone – from families wanting to get their feet wet in a new sport, to the experienced angler hoping to land a Truckee River trophy. Fill out the form below to connect with the team, or call the shop at (530) 563-5119.

We offer year round trips, classes and clinics. The schedule changes based on interest and weather conditions. Call the shop if you have any questions and we can help lead you to the best options.

Many people overlook the Reno/Tahoe area as one of the primer fly fishing destinations in the country. However, once they arrive are pleasantly surprised at the amount of fishing opportunities. For good reason the Truckee and Little Truckee rivers always seem to be the biggest draw to the area.

Truckee River – This is one of California's classic freestones. With few exceptions, most guide trips originate from the town of Truckee and head down stream towards the Nevada state line. This stretch is filed with every type of water imaginable, runs, riffles, plunge pools, boulders and everything else you can imagine in a bigger river.

Little Truckee River – This is our local tailwater and a true gem of the Sierra. With that said the LT at times fishes more like a spring creek than a tailwater. With smaller flows than its big brother, there is always an opportunity to sight fish the LT if conditions are in your favor. Most of the time on the LT we're using 4 and 5 wt rods and the occasional 6.

Half Day – $395 for one or two anglers ($150 charge for a third angler)

Full Day – $545 for one or two anglers, ($150 charge for a third angler)

Does not include 2% service charge.
Give us a call at the shop or fill out the TRIP INQUIRY FORM below.
Nationally recognized as one of the top fly fishing schools in the country, Matt's education curriculum is what sets us apart from other programs. We believe the best way to effectively learn fly fishing is to experience it in a fun, exciting, hands on environment with a professional instructor. Because of this mindset, we've developed a number of custom classes that will tailor to all anglers ability levels and skill sets.

Taking one of our classes will help you avoid many of the pit falls beginners run into, and drastically reduce the learning curve ten fold. Our youthful, educational, and energetic lesson plans are what keep bringing students back year after year, wanting to learn more!

Does not include 2% service charge.

Cast N' Catch (3 hrs: $190/pp) This is by far MHFFs most popular class offering the best of both worlds, casting instruction and fishing

Sundowner (Full Day: $400/single. $300/pp for two or more) Like the C n' C class, this popular option covers all the subjects of the Intro. to Fly Fishing 101 course, along with guided evening fishing on the private ponds at the Resort at Squaw Creek.

Fish On (1.5 hrs: $100/pp) For those of you that just want to spend some time fishing in one of the most beautiful settings in he world; this is the option for you. Let us be your personal guide on one of the resorts two private, stocked ponds chasing after beautiful rainbow trout.

Beginner Casting (1.5 hrs: $90/pp) This class is geared for people wanting to try fly casting for the first time, or someone looking to improve their beginner skills.

Intermediate/Advanced Casting (1.5 hrs: $90/pp) Students taking this class usually have the fundamentals of the fly cast down pretty well, and are looking to improve on what they already know.
Give us a call at the shop or fill out the TRIP INQUIRY FORM below.

_______________________
Cast N' Class – plus a half or full day Guide Trip

Our most popular package over the years has been combing our Cast N' Catch class with a guide trip on the Truckee River. This option gives beginners and intermediate anglers the best of both worlds, hands on learning in our CnC class, and river time.
We start with a three hour lesson on our private, stocked ponds learning all the fundamentals of fly fishing. After lunch the day of, or the following day we'll meet in Truckee for a half day chasing large, wild trout on the Truckee River. This is truly our 'Can't miss" package for everyone!. Give us a call at the shop or fill out the TRIP INQUIRY FORM below.
Along with offering a wide range of classes and guide trips, MHFF also specializes in customized, on the water clinics which cover a large variety of fly fishing topics.
Clinics are great for everyone, from the families wanting to get their hands wet in a new sport – to large company outings wanting to do a unique group activity. Clinics typically take place on the Truckee River, near the town of Truckee.
Give us a call at the shop or fill out the TRIP INQUIRY FORM below.